What can you expect from breakfast at the Best Western Plus Hotel Erb? Only the best and much more!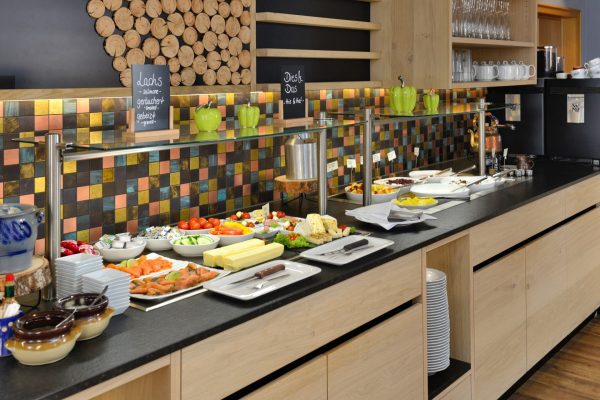 From a variety of fresh egg dishes to Bavarian specialties such as Weißwurst and Leberkäs and a huge selection of fresh rolls and breads, there's nothing you won't find at breakfast in the Best Western Plus Hotel Erb. Crunchy fruit, fresh muesli, a large selection of juices and daily changing cheese and sausage variations. Look forward to a freshly brewed filter coffee and other coffee and tea specialties such as café au lait, cappuccino and latte macchiato. In addition, friends of vegetarian cuisine will not be left out!
Breakfast á la Best Western Plus Hotel Erb – a small selection summarized for you
Start your day with a fine coffee specialty. How about a freshly brewed coffee with milk for breakfast? Or a cappuccino, latte macchiato, espresso, café crème, decaffeinated coffee and much more. In addition to our selection of coffees, the tea lovers among you will also find around 20 different teas from all over the world from the Ronnefeldt company.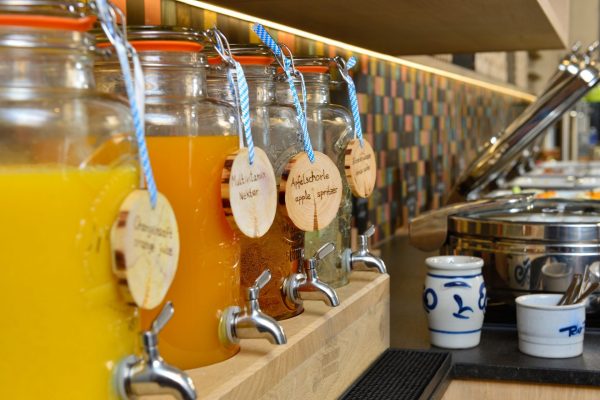 For those refreshing moments, our cold appliances offer a wide selection of fruit juices and mineral water. We have not forgotten our little guests, who also get their money's worth with a hot chocolate in the morning to start the day satisfied.
Once your first thirst has been quenched, our extensive breakfast buffet in the Best Western Plus Hotel Erb awaits you with many different types of bread and rolls as well as all kinds of ham, sausage specialties and smoked salmon. The selection of fresh and soft cheeses is of course in no way inferior. You can also look forward to our large selection of cheese slices from Gouda to Emmental and Edam.
Hearty breakfast buffet in Parsdorf at the Best Western Plus Hotel Erb
Lovers of warm breakfast dishes will also get their money's worth with us! With hard and/or soft boiled eggs, fresh fried eggs or scrambled eggs with fried bacon, small mini meatballs and various sausages there is something for everyone.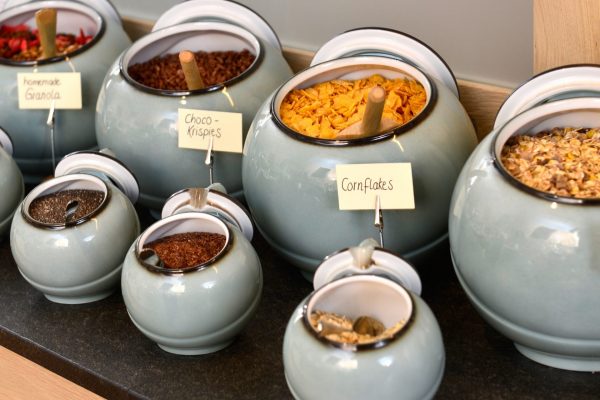 As a sweet tooth, sticky nut buns, croissants with and without chocolate filling as well as various jams, honey and nut nougat cream are waiting for you.
For friends of light cuisine we have set up a special fitness corner where you will find cornflakes, various other Kelloggs specialties as well as five different types of muesli and a selection of fresh yogurts – both natural and with fruit. Fresh fruit and fruit salad are also available.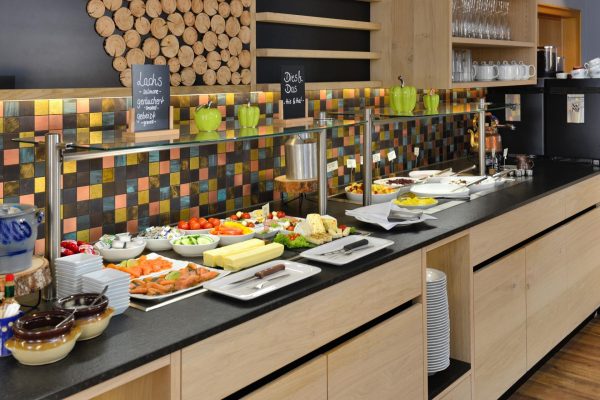 Lactose, gluten or looking for a vegan and/or vegetarian breakfast buffet? Breakfast buffet at Hotel Erb!
Everything is possible – that's what we go by! For the vegetarian guests there is a rich offer of fruit, bread and meatless meals every day. For gluten-free, lactose-free or vegan dishes, please let us know when making your reservation or during your arrival, and we will be happy to provide you with a sufficient supply. Lactose-free milk is on the buffet, other lactose-free products and gluten-free meals we are happy to procure.
Opening hours and reservation
Our breakfast team welcomes you from Monday to Friday from 6:30am to 10:30am and on weekends and holidays up to 11am (brunch Sundays are excluded). Breakfast guests are always welcome at the Best Western Plus Hotel Erb. We are looking forward to your reservation under +49 89 991100 or by email to: info@hotel-erb.de. Do you already know our vouchers? A great opportunity to say thank you or to give back to loved ones with a visit to the breakfast buffet in the Hotel Erb or a brunch!
We are looking forward to your Visit!