Only the very best to start the day – breakfast à la Hotel Erb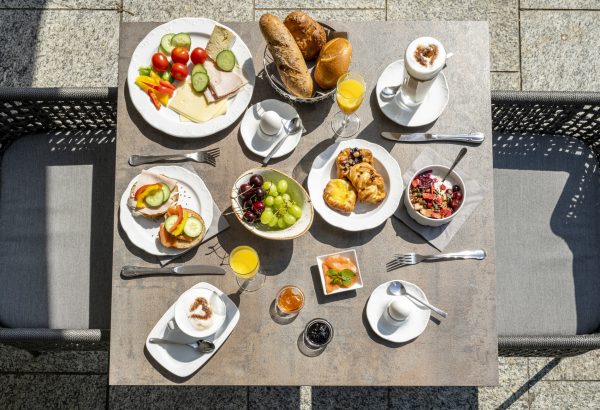 Whether you are an early bird, a late riser, on holiday or a trade fair visitor – look forward to our rich breakfast from the buffet. The bright and friendly ambience in the breakfast room, the aroma of fresh coffee and fresh bread rolls will delight your morning. The perfect way to start the day is a strengthening breakfast at the buffet, which offers a wide selection of cold and warm dishes for every taste. Fresh, delicious and appetisingly arranged – only the best of the finest!
Our gift idea: A voucher for our breakfast buffet! Whether as a thank-you gift for a loved one or as a surprise for your partner. You will always score with our gift vouchers – our service team looks forward to hearing from you.
Breakfast like a king – at the Best Western Plus Hotel Erb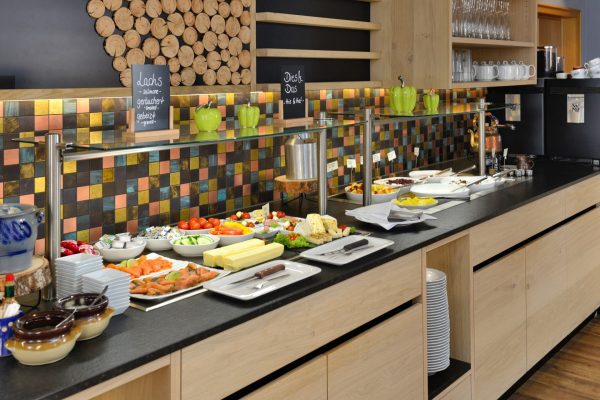 Start the day healthy and happy with our breakfast buffet. Look forward to sweet and savoury dishes, cold and warm delicacies and other tasty treats. Everything is freshly prepared for you and there is something for every taste. We also offer gluten- and lactose-free dishes or vegetarian food. Please inform us before arrival so that we can plan the meals properly.
Egg dishes in different variations, hearty Bavarian specialities such as Weißwürste (veal sausages) and Leberkäs' (meatloaf) as well as delicious cold cuts and cheese specialities are waiting for gourmets like you! And the best thing is: everything comes from regional producers and varies every day. Even our fresh buns, pretzels and bread come from a local bakery. We also recommend our crunchy fruit, delicious muesli variations and a large selection of different fruit juices.
Coffee and tea specialities are included in breakfast at the best Western Plus Hotel Erb. Breakfast like a king – enjoy it!
Opening hours and reservation
Our breakfast team welcomes you from Monday to Friday from 6.30 a.m. to 10.30 a.m. and on weekends as well as public holidays up to 11.00 a.m. (except Brunch Sundays). You are also welcome as a visitor for breakfast at any time at the Best Western Plus Hotel Erb, we look forward to your reservation under +49 89 991100 or by e-mail to: info@hotel-erb.de. Do you already know our vouchers? A great way to say thank you or treat loved ones with a visit to the breakfast buffet or brunch at Hotel Erb!
We look forward to your visit!
Impressions from our breakfast buffet